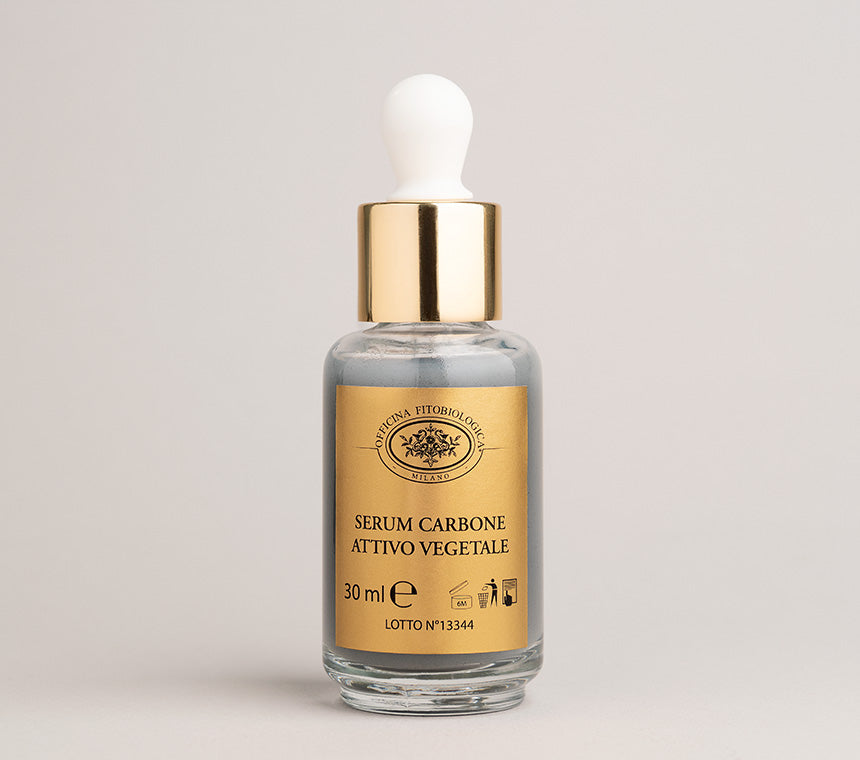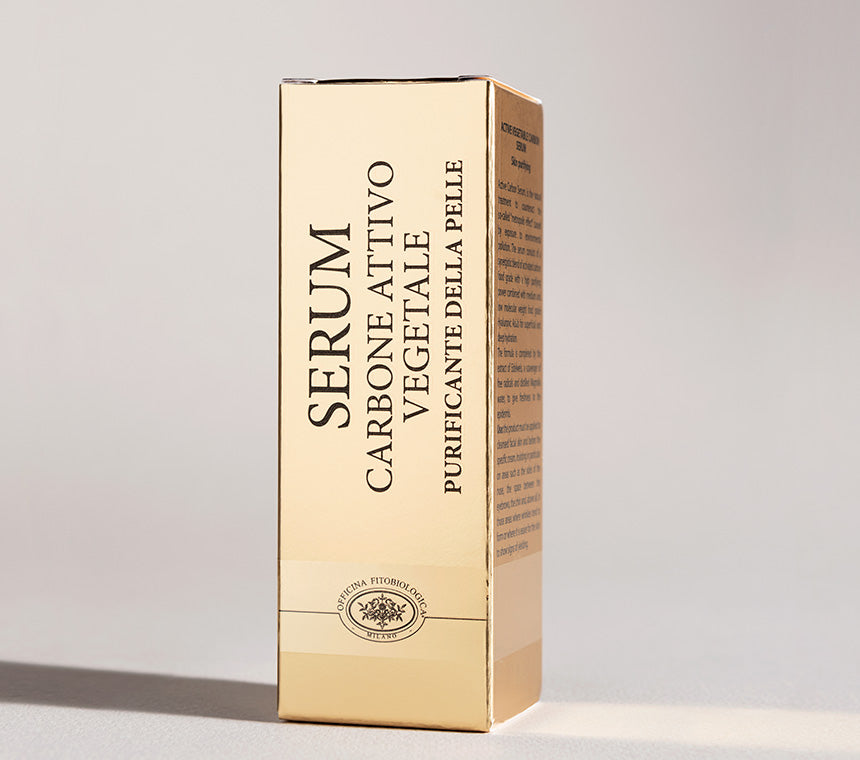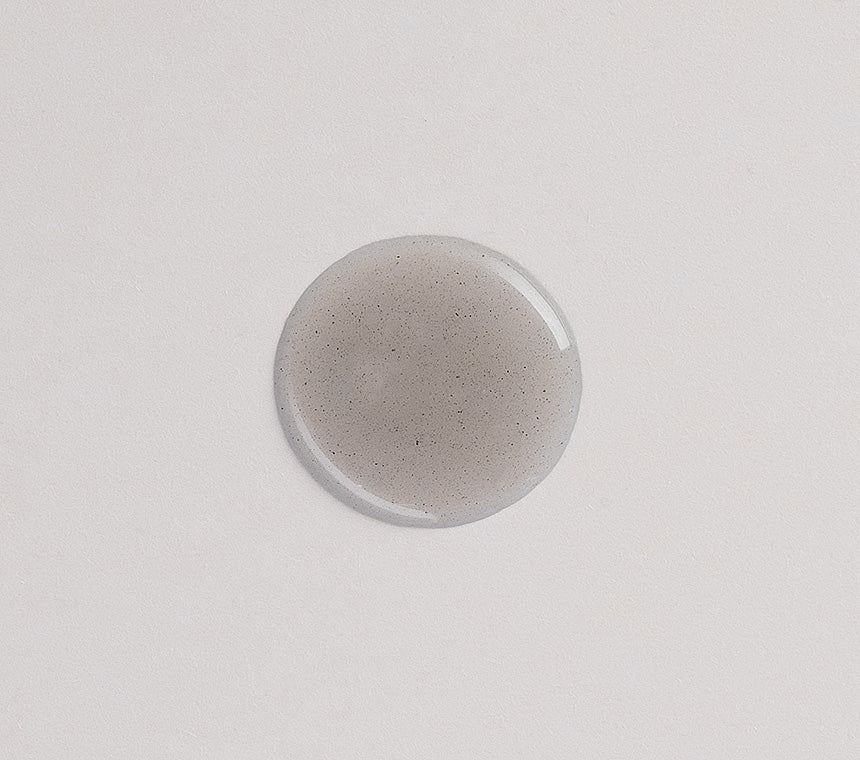 FACE VEGETABLE ACTIVATED CHARCOAL SERUM
FORMAT
30 ml
The serum is made up of a synergistic blend of food grade Activated Carbon with high purifying power combined with medium and low molecular weight food grade Hyaluronic Acids for surface and deep hydration. The formula is completed by Edelweiss extract and Magnolia distilled water, to give freshness to the skin.
EFFECTS
Protective and p

urifying

Antioxidant

Moisturizing and anti-aging
FOR WHO
Suitable for all skin types, even the most sensitive. It has a soft and light texture, rapidly absorbed, which protects the skin making it healthier and more elastic.
HOW TO USE

Apply the product on cleansed facial skin and before the specific cream, insisting in particular on areas such as the sides of the nose, the space between the eyebrows, the chin and, above all, in those areas where wrinkles tend to form or where it is more easy for the skin to have the first signs of sagging.



Made in Italy
Officina Fitobiologica directly produces the preparations and plant extracts of its cosmetics, in its laboratories in Milan, to ensure the purity of the ingredients and the effectiveness of the active ingredients.
FACE VEGETABLE ACTIVATED CHARCOAL SERUM
INCI
INGREDIANTS
MAGNOLIA GLAUCA FLOWER WATER, AQUA, Sodium Hyaluronate, Hydrolyzed HYALURONIC ACID, Leontopodium alpinum EXTRACT, CARBON, Arginine, GLYCERIN, PHENOXYETHANOL, PARFUM, ACRYLATES/VINYL ISODECANOATE CROSSPOLYMER, SODIUM BENZOATE, Ethylhexylglycerin, Potassium sorbate, STYRENE/ACRYLATES COPOLYMER, CITRIC ACID.
Food Grade
Food grade active ingredients
Botanicals
91% natural ingredients | Original botanicals made by Officina Fitobiologica
Sustainable supply chain
Low environmental impact product and packaging
INGREDIENTS OF THIS COSMETIC
ACTIVE INGREDIENTS & BOTANICALS
Main active ingredients prepared directly by Officina Fitobiologica in its laboratories to ensure the highest level of purity and effectiveness.
ACTIVE VEGETABLE CARBON Purifying Microporous vegetable carbon with high purifying power, obtained from coconut shells subjected to a carbonization process and subsequently activation by water vapor, which gives life to the strong ability to make the molecules of environmental impurities adhere.
HYALURONIC ACID MMW (Medium Molecular Weights) Gives high elasticity and firmness Maximum level of food grade purity (food level) is able to bind a high number of water molecules ensuring surface hydration through a thin, invisible and viscoelastic layer, which fixes the humidity on its epidermal surface. LMW HYALURONIC ACID (Low Molecular Weights) Plumping moisturizer Food grade acid (maximum degree of food purity) with a fundamental role of deep dermal hydration. This molecule, lightened in structure, overcomes the skin barrier reaching the deeper layers of the dermis ensuring greater hydration, turgor and brightness.
EDELWEISS EXTRACT Antioxidant preserves the natural balance of the skin Obtained from Edelweiss (Leontopodium alpinum) from organic crops above 1500 meters in the Swiss Alps, it guarantees the maximum content of active components ideal for anti-aging.
DISTILLED WATER OF MAGNOLIA Toning, firming and refreshing. Obtained by steam distilling the flowers, leaves and bark of Magnolia glauca L., eliminating the essential oil by decanting. This active ingredient replacing the water in the cosmetic product strengthens its eudermic properties. NATURAL PENTYLENE GLYCOL Emollient, humectant and protective properties of the skin. An effective ingredient of natural origin, it differs from other glycols in that it is a plant product obtained from sugar cane and non-GMO corn cobs, Ecocert and Cosmos certified:Cosmetic Organic natural standard.