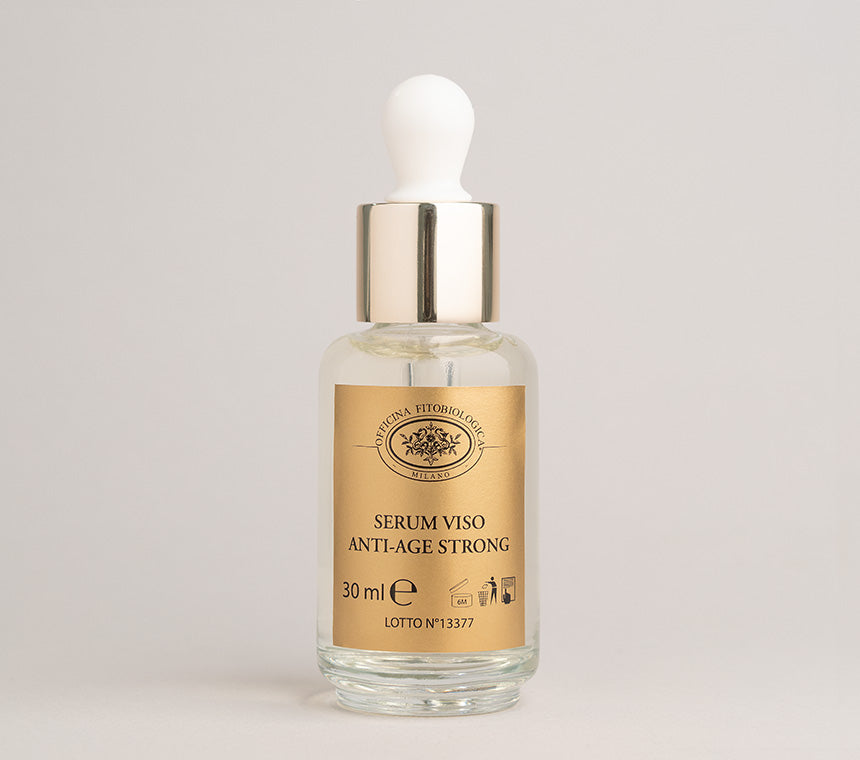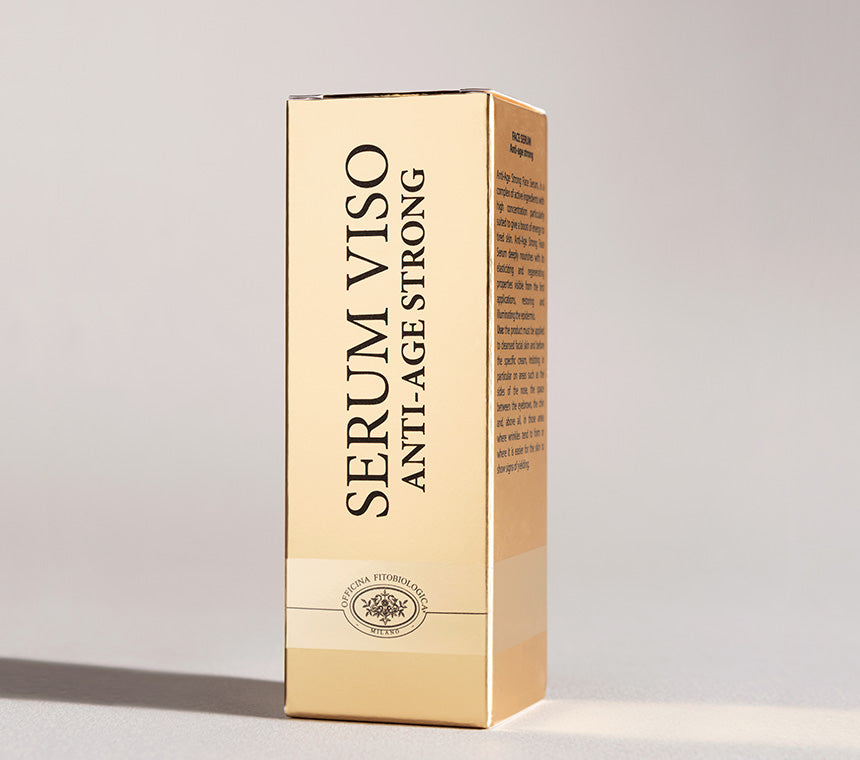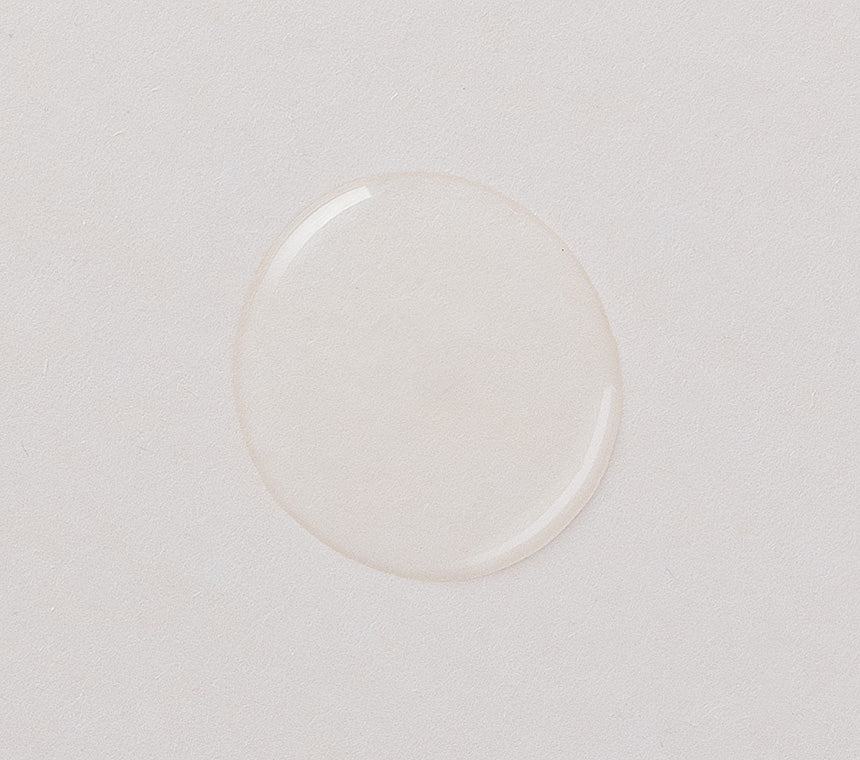 STRONG FACE ANTI-AGE SERUM
FORMAT
30 ml
Serum with a lifting effect that provides a visible brightness and plumps the skin made less toned by the signs of aging. It deeply nourishes with its elasticizing and regenerating properties visible from the first applications, restoring and illuminating the epidermis.
EFFECTS

Immediate anti-fatigue

Anti-wrinkle and plumping

Moisturizes without greasing
FOR WHO
Suitable for combination and oily skin. It has a light texture, rapidly absorbed, which makes the skin visibly brighter and more compact.
HOW TO USE

Apply a few drops on cleansed face skin, before the specific cream. Particularly insist on areas such as the sides of the nose, the space between the eyebrows or other areas as needed.

Made in Italy
Officina Fitobiologica directly produces the preparations and plant extracts of its cosmetics, in its laboratories in Milan, to ensure the purity of the ingredients and the effectiveness of the active ingredients.
STRONG FACE ANTI-AGE SERUM
INCI
INGREDIANTS
AQUA, HYDROLYZED COLLAGEN, PENTYLENE GLYCOL*, SODIUM HYALURONATE, OLIGOPEPTIDE-4, HYDROLIZED ELASTIN, PROPYLENE GLYCOL, BENZYL ALCOHOL, PARFUM, TETRASODIUM GLUTAMATE DIACETATE, ETHYLHEXYLGLYCERIN, LACTIC ACID, PHENOXYETHANOL, SODIUM HYDROXIDE, SODIUM DEHYDROACETATE, SORBIC ACID, UNDECYLENIC ACID. (* VEGETABLE PRODUCT MADE FROM SUGAR CANE AND CORN COB. NO GMO).
Food Grade
Food grade active ingredients
Botanicals
91% natural ingredients | Original botanicals made by Officina Fitobiologica
Sustainable supply chain
Low environmental impact product and packaging
INGREDIENTS OF THIS COSMETIC
ACTIVE INGREDIENTS & BOTANICALS
Main active ingredients prepared directly by Officina Fitobiologica in its laboratories to ensure the highest level of purity and effectiveness.
MARINE COLLAGEN Food Grade Very rich in amino acids including the essentials, it is a functional substance intended to carry out a moisturizing and smoothing action on the surface of the stratum corneum as well as substantiating, that is, capable of binding to the proteins of the skin, forming a film that gives emolliency to the skin . HYDROLISED ELASTIN Functional substance intended to perform a hydro-protective action.
HYALURONIC ACID MMW (Medium Molecular Weight) food grade Product capable of binding a high number of water molecules ensuring surface hydration with the formation of a thin, invisible, viscoelastic layer, which fixes the humidity on its epidermal surface, giving elasticity and turgor. Effects known and documented in the literature. Food grade Hyaluronic Acid is of an edible level therefore of the highest and most effective quality, which provides elements that can be assimilated by nature.
OLIGOPEPTIDE-4 Molecule consisting of a few amino acids, a precursor of specific collagen to contribute to the formation of collagen by improving skin elasticity and hydration. Oligopeptide-4 is absorbed through the epidermis and reaches the dermis, actively inserting itself in the biosynthesis of collagen. It thus exerts its activity regulating the production of collagen fibers, through an inhibition of the protocollagenoproline hydroxylase, which results in a braking effect on the excessive production of interfibrillar bridges, and therefore in preventing the phenomena of skin sclerosis. (Laboratory of Dermopharmacology of the Interdiscipline Institute of Technology-Genoa).
PENTYLENE GLYCOL Natural is an effective product of natural origin certified by Ecocert and Cosmos, with emollient, humectant, protective and conditioning properties of the skin. It also acts against yeasts, molds. This ingredient differs from all glycols because it is a plant product made from sugar cane and non-GMO corn cobs.