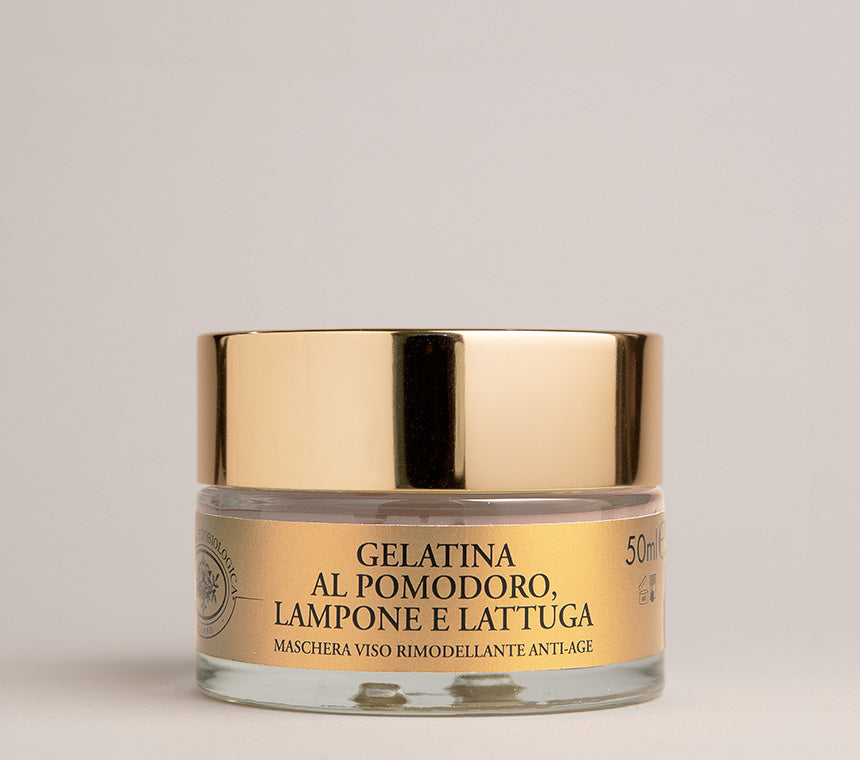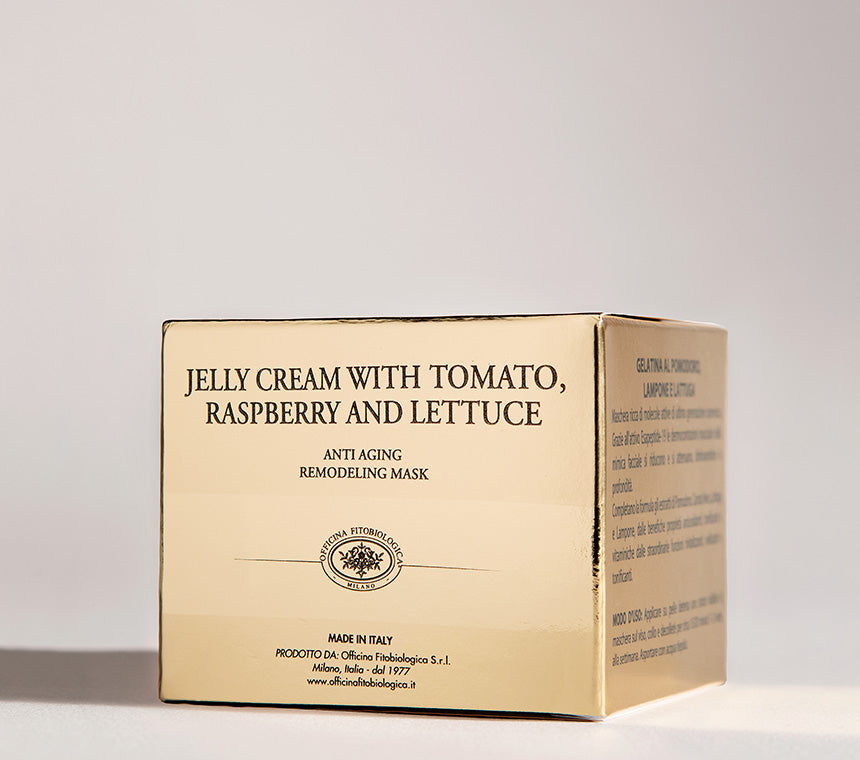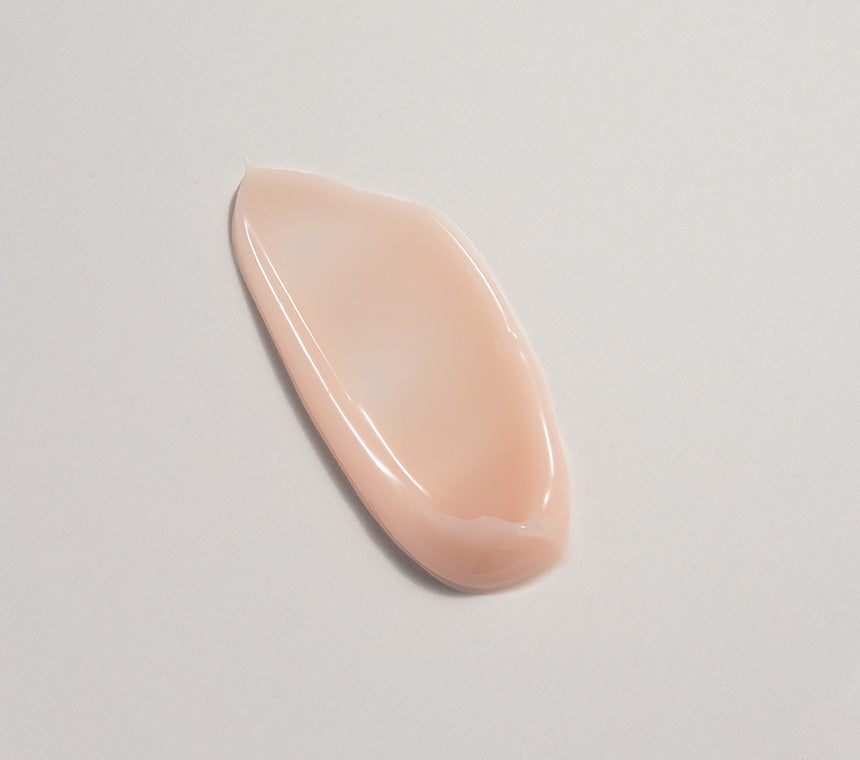 VITAMIN MOISTURIZING FACE MASK
FORMAT
50 ml
Face mask with nourishing and vitamin action. Rich texture, formulated with Tomato, Black Carrot, Lettuce and Raspberry, with beneficial antioxidant, toning and vitaminic properties and extraordinary revitalizing, velvety and toning functions.
EFFECTS
Antioxidant and invigorating
Immediate revitalizing effect

Moisturizes and makes the skin velvety
FOR WHO

This mask is suitable for all skin types, even the most sensitive.
HOW TO USE
Apply a visible layer of the mask on the face, neck and décolleté to clean skin for about 15/20 minutes 1-2 times a week. Rinse with warm water.



Made in Italy
Officina Fitobiologica directly produces the preparations and plant extracts of its cosmetics, in its laboratories in Milan, to ensure the purity of the ingredients and the effectiveness of the active ingredients.
VITAMIN MOISTURIZING FACE MASK
INCI
INGREDIANTS
AQUA, HYDROXYETHYL ACRYLATE/SODIUM ACRYLOYLDIMETHYLTAURATE COPOLYMER PENTYLENE GLYCOL*, RUBUS IDAEUS JUICE, SQUALANE, LACTUCA SCARIOLA SATIVA LEAF JUICE, SOLANUM LYCOPERSICUM FRUIT JUICE, PALMITOYL, HEXAPEPTIDE-19, GLYCERIN, ANTHOCYANINS, PARFUM, POLYSORBATE 60, LACTID ACID, CARBOMER, SODIUM HYDROXIDE, BENZYL ALCOHOL, ETHYLHEXYLGLYCERIN, TETRASODIUM GLUTAMATE DIACETATE, PHENOXYETHANOL. *Vegetable Product obtained from Sugar Cane and No GMO Corn Cob.
Food Grade
Food grade active ingredients
Botanicals
91% natural ingredients | Original botanicals made by Officina Fitobiologica
Sustainable supply chain
Low environmental impact product and packaging
INGREDIENTS OF THIS COSMETIC
ACTIVE INGREDIENTS & BOTANICALS
Main active ingredients prepared directly by Officina Fitobiologica in its laboratories to ensure the highest level of purity and effectiveness.
HEXAPEPTIDE-19 BIBIOMIMETIC The peptide is a sequence of amino acids, and is a molecule created in imitation of the natural world. This is an active molecule of the latest cosmetic generation, which reduces the aesthetic visibility of expression lines. It mimics botulinum toxin in a safe and reversible way, it reduces small expression lines because it acts at the level of the contraction of mimic muscles. This molecule is so "intelligent" that it is able to guarantee cell-to-cell communication, acting within the single cell and regulating the same biological process of botulinum toxin.
TOMATO EXTRACT Obtained with a procedure designed to keep the active ingredient content of the vegetable intact. Tomatoes are a resourceful and virtuous vegetable. In addition to being particularly healthy and beneficial in the kitchen, they are also excellent for beauty treatments, especially for skin care. Its precious properties, vitamins, lycopene, beta-carotene, potassium and the antioxidants that we find inside, can also act in the form of wraps and beauty masks. RASPBERRY EXTRACT Obtained with procedures designed to keep the active ingredient content of the fruit intact. It is a real toning and restructuring of the skin thanks to its antioxidant, anti-inflammatory, astringent and anti-aging properties.
LETTUCE EXTRACT Obtained with a procedure designed to keep the active ingredient content of the vegetable intact. Thanks to its revitalizing capacity, it gives the skin a lasting softness, makes it velvety and has a tonicizing effect. It is a valuable aid in the case for reddened and congested skin. BLACK CARROT EXTRACT (anthocyanins) It is a variety of carrot that few in the West know, but which promises very well for its properties and for the benefits it can bring to our body. It has properties similar to those of blueberries, plums, grapes or red wine and is therefore rich in anthocyanins with a high antioxidant power, very useful against free radicals, inflammation, circulatory problems, damage caused by ultraviolet rays.
The basic ingredients are prepared directly by Officina Fitobiologica to ensure the best quality and effective persistence of the active ingredients.