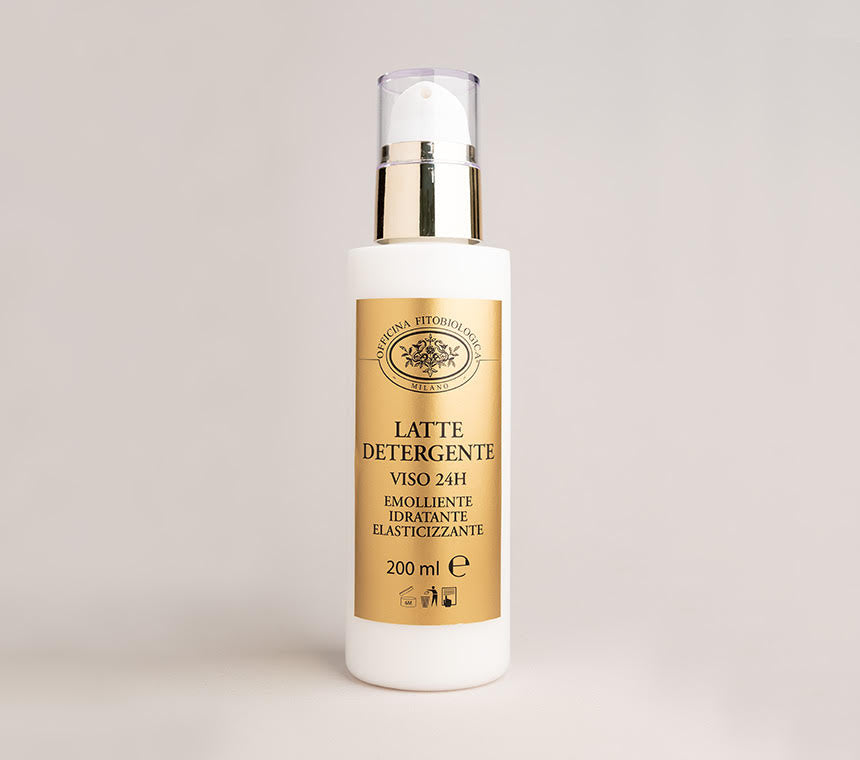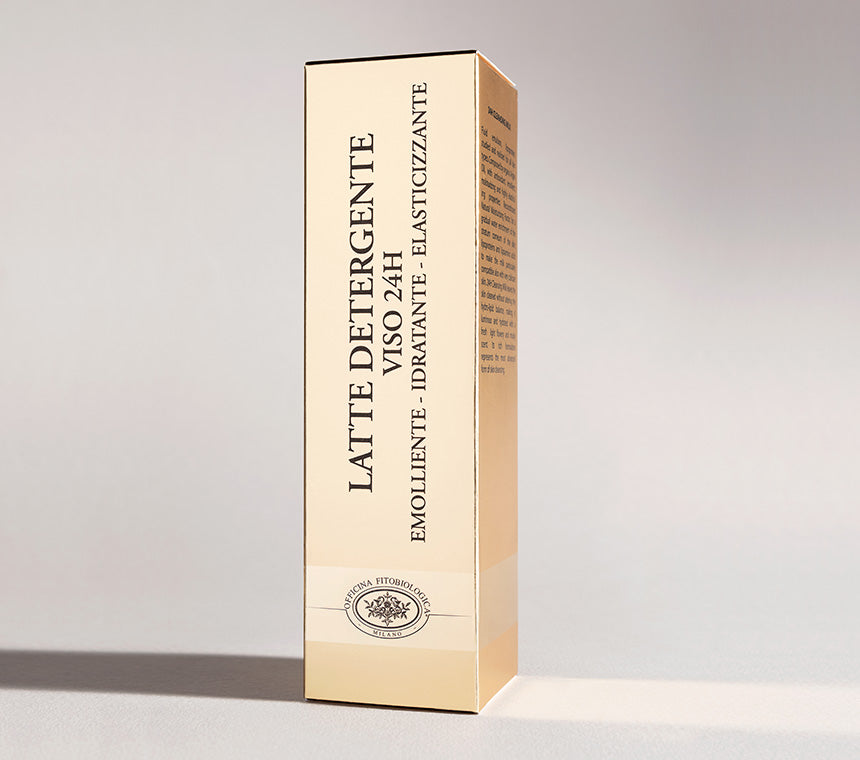 FORMAT
200 ml
Removes make-up and all impurities accumulated on the skin over the course of the day.
It makes the skin radiant and hydrated with a fresh and very light floral and musky scent.
EFFECTS
Sebum-balancing

Effectively removes makeup and impurities
Moisturizes without greasing
FOR WHO

This cleanser is suitable for all skin types, even the most sensitive and prone to irritation and redness, it allows the skin to breathe and regain freshness and tone.
HOW TO USE
Apply the cleanser on a cotton pad to remove make-up and impurities on the face and neck.



Made in Italy
Officina Fitobiologica directly produces the preparations and plant extracts of its cosmetics, in its laboratories in Milan, to ensure the purity of the ingredients and the effectiveness of the active ingredients.
INCI
INGREDIANTS
AQUA, ETHYLHEXYL PALMITATE, CETEARYL ALCOHOL, GLYCERIN, PENTYLENE GLYCOL*, GLYCERYL STEARATE, POTASSIUM, PALMITOYL HYDROLIZED WHEAT PROTEIN, ARGANIA SPINOSA OIL, SODIUM LACTATE, SODIUM PCS, NIACINAMIDE, XANTHAN GUM, PARFUM, LACTIC ACID, FRUCTOSE, ETHYLHEXYL GLYCERIN, GLYCINE, INOSITOL, TETRASODIUM GLUTAMATE DIACETATE, UREA, BENZYL ALCOHOL, DIMETHICONE, BENZYL SALICYLATE, HEXYL CINNAMAL, ALPHA-ISOMETHYL IONONE, CITRONELLOL, GERANIOL, SODIUM BENZOATE, BENZYL BENZOATE, HYDROXYCITRONELLAL, CITRAL, BENZYL CINNAMATE, AMYL CINNAMAL. *Vegetable Product obtained from Sugar Cane and No GMO Corn Cob.
Food Grade
Food grade active ingredients
Botanicals
91% natural ingredients | Original botanicals made by Officina Fitobiologica
Sustainable supply chain
Low environmental impact product and packaging
INGREDIENTS OF THIS COSMETIC
ACTIVE INGREDIENTS & BOTANICALS
Main active ingredients prepared directly by Officina Fitobiologica in its laboratories to ensure the highest level of purity and effectiveness.
ORGANIC ARGAN OIL With antioxidant, emollient, moisturizing and highly elasticising properties. Organic Argan oil with important dermatological and functional properties capable of giving the skin a sensation of softness, smoothness and silkiness. Quickly absorbed without leaving greasiness on the skin, this natural lipid is suitable for preventing skin sagging. The barrier effect on the skin remains high over time, guaranteeing benefit and nourishment to dehydrated skin. Thanks to the high content of essential fatty acids and vitamin E, it is able to protect the epidermis from external aggressions, neutralizing free radicals and ensuring the skin hydration and supply of lipids. The emollient properties make it suitable for the prevention of skin relaxation.
N.M.F. RECONSTRUCTED (Natural Moisturizing Factor) For a gradual water enrichment of the stratum corneum of the skin. Since the composition of natural moisturizing factors (NMF) contained in the epidermis is known, the same complex mixture of substances produced by the skin has been reconstructed with sodium lactate, sodium PCA (sodium salt of hiroglutamic acid), glycine, fructose, urea , niacinamide, inositol and lactic acid. This mixture is able to retain the right moisture in the stratum corneum by regulating the loss of water from the skin to the outside
NATURAL PENTYLENE GLYCOL It is an effective product of natural origin certified by Ecocert and Cosmos, with emollient, humectant, protective and conditioning properties of the skin. This ingredient differs from all glycols because it is a plant product made from sugar cane and non-GMO corn cobs. Lipoproteins and Lipoamino acids to make milk particularly compatible with even the most delicate skins.
The basic ingredients are prepared directly by Officina Fitobiologica to ensure the best quality and effective persistence of the active ingredients.