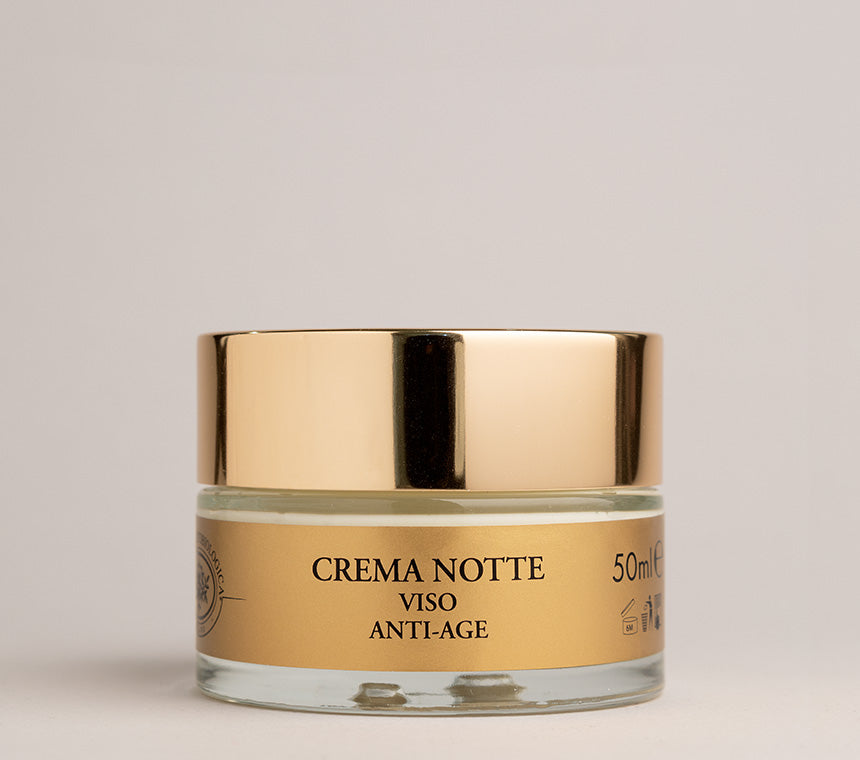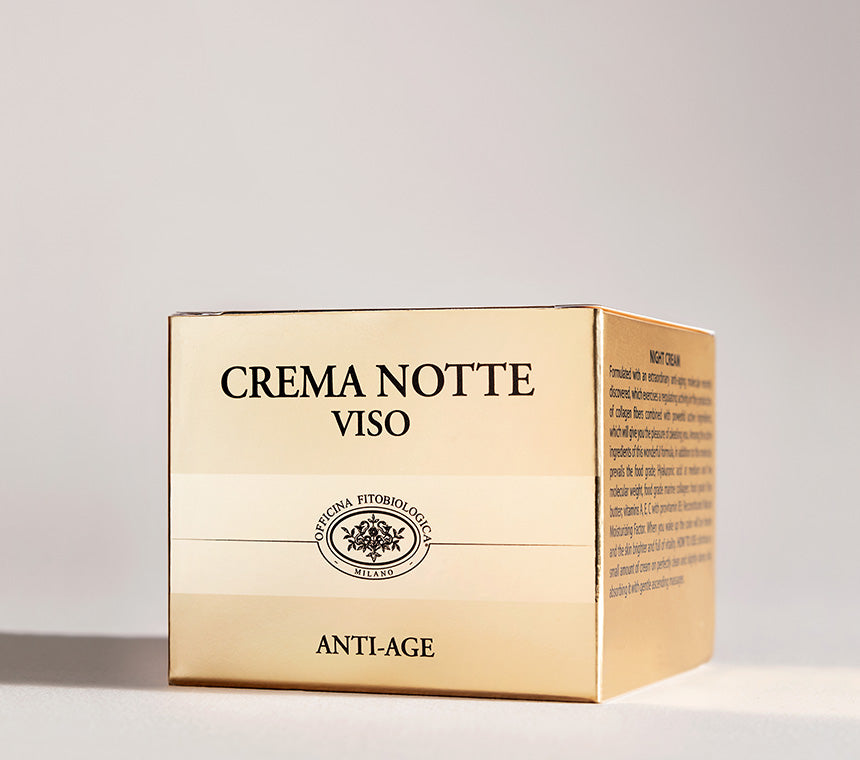 FORMAT
50 ml
Promotes cell regeneration of skin tissue. Soft, easily spread, it leaves no residue that makes the skin shiny, but a very light, impalpable protective film. It makes the skin visibly smoother, reducing wrinkles.
EFFECTS
Anti-wrinkle and anti-skin stress

Plumping

Moisturizing
Elasticizing

FOR WHO

Suitable for mature skin, even the most sensitive ones subject to negative factors such as:stress, unfavorable climatic conditions, which reduce skin elasticity.
HOW TO USE
Always distribute a small amount of cream on perfectly clean skin and let it absorb with gentle ascending massages.

Made in Italy
Officina Fitobiologica directly produces the preparations and plant extracts of its cosmetics, in its laboratories in Milan, to ensure the purity of the ingredients and the effectiveness of the active ingredients.
INCI
INGREDIANTS
AQUA, ETHYLHEXYL PALMITATE, CAPRYLIC/CAPRIC TRIGLYCERIDE, GLYCERIN STEARATE SE, POLYGLYCERYL-3, METHYLGLUCOSE DISTEARATE, GLYCERIN, CERA ALBA, HYDROLYZED COLLAGEN, BUTYROSPERMUM PARKII BUTTER, PENTYLENE GLYCOL*, OLIGOPEPTIDE-4, SODIUM HYALURONATE, HYDROLIZED HYALURONIC ACID, HYDROLIZED ELASTIN, PANTHENOL, TOCOPHERYL ACETATE, SODIUM ASCORBYL PHOSPHATE, BENZYL ALCOHOL, PARFUM, SODIUM LACTATE, SODIUM PCA, RETINYL PALMITATE, XANTHAN GUM, TETRASODIUM GLUTAMATE DIACETATE, SCLEROTIUM GUM, PROPYLENE GLYCOL, LACTIC ACID, ETHYLHEXYGLYCERIN, ZEA MAYS OIL, DIMETHICONE, LECITHIN, ASCORBYL PALMITATE, TOCOPHEROL, PHENOXYETHANOL, DISODIUM PHOSPHATE, LINALOOL, FRUCTOSE, GLYCINE, BETA-CAROTENE, UREA, INOSITOL, NIACINAMIDE, POTASSIUM PHOSPHATE, LIMONENE, SODIUM BENZOATE, SODIUM METABISULFITE, SODIUM DEHYDROACETATE, SORBIC ACID, UNDECYLENIC ACID, CITRONELLOL, COUMARIN, GERANIOL, CITRAL. *Vegetable Product obtained from Sugar Cane and No GMO Corn Cob.
Food Grade
Food grade active ingredients
Botanicals
91% natural ingredients | Original botanicals made by Officina Fitobiologica
Sustainable supply chain
Low environmental impact product and packaging
INGREDIENTS OF THIS COSMETIC
ACTIVE INGREDIENTS & BOTANICALS
Main active ingredients prepared directly by Officina Fitobiologica in its laboratories to ensure the highest level of purity and effectiveness.
OLIGOPEPTIDE-4 Molecule consisting of a few amino acids, precursor of specific collagen to contribute to the formation of collagen by improving skin elasticity and hydration. Oligopeptide-4 is absorbed through the epidermis and reaches the dermis, actively inserting itself in the biosynthesis of collagen. It thus exerts its activity regulating the production of collagen fibers, through an inhibition of the protocollagenoproline hydroxylase, which results in a braking effect on the excessive production of interfibrillar bridges, and therefore in preventing the phenomena of skin sclerosis. (Laboratory of Dermopharmacology of the Interdiscipline Institute of Technology-Genoa) BETA-CAROTENE Also known as provitamin A on the epidermis, it has a protective epithelial action.
HYALURONIC ACID MMW FOOD GRADE (Medium Molecular Weights) Product capable of binding a high number of water molecules ensuring surface hydration with the formation of a thin, invisible, viscoelastic layer, which fixes the humidity on its epidermal surface, giving elasticity and turgor HYALURONIC ACID LMW FOOD GRADE (Low Molecular Weights) From the fundamental role of deep dermal hydration. This molecule, lightened in structure, overcomes the skin barrier reaching the deeper layers of the dermis ensuring greater hydration, turgor and brightness.
FOOD GRADE ORGANIC SHEA BUTTER Used since time immemorial by indigenous peoples both as a medicine and as a cosmetic, it is obtained from the seeds of the Butyrospermum parkii tree. Composed of a high fraction of triglycerides responsible for the emollient, moisturizing and regenerating properties of the skin barrier and thanks to the presence of a high proportion of unsaponifiable fraction, it is a precious natural anti-wrinkle and anti-aging ingredient for the face and body, able to confer to the skin compactness and elasticity. Shea butter also contains tocopherols (vitamin E), which act as natural antioxidants N.M.F. RECONSTITUTED (Natural Moisturizing Factor) Since the composition of natural moisturizing factors (NMF) contained in the epidermis is known, the same complex mixture of substances produced by the skin with sodium lactate, sodium PCA (sodium salt of pyroglutamic acid) has been rebuilt , glycine, fructose, urea, niacinamide, inositol and lactic acid. This mixture is able to retain the right moisture in the stratum corneum by regulating the loss of water from the skin towards the outside. NATURAL PENTYLENE GLYCOL Vegetable product obtained from sugar cane and non-GMO corn cobs. it is an effective product with emollient, humectant, protective and conditioning properties of the skin.
VITAMIN A It participates in maintaining the integrity of the skin. It is useful in the case of chapped, red and irritated skin, it also has a sebum-regulating action. PROVITAMIN B5 Natural product with strong moisturizing, emollient-soothing properties VITAMIN C It has a high antioxidant capacity that allows it to inactivate free radicals which, if present in excessive quantities, are among the factors that most contribute to skin aging. Contrasts skin aging by promoting the formation of collagen, acts on the melanin formation process by preventing hyperpigmentation and senile keratosis, protects the skin, promotes its development and improves its appearance. VITAMIN E Protects the epidermis from oxidation of skin lipids and their rancidity.