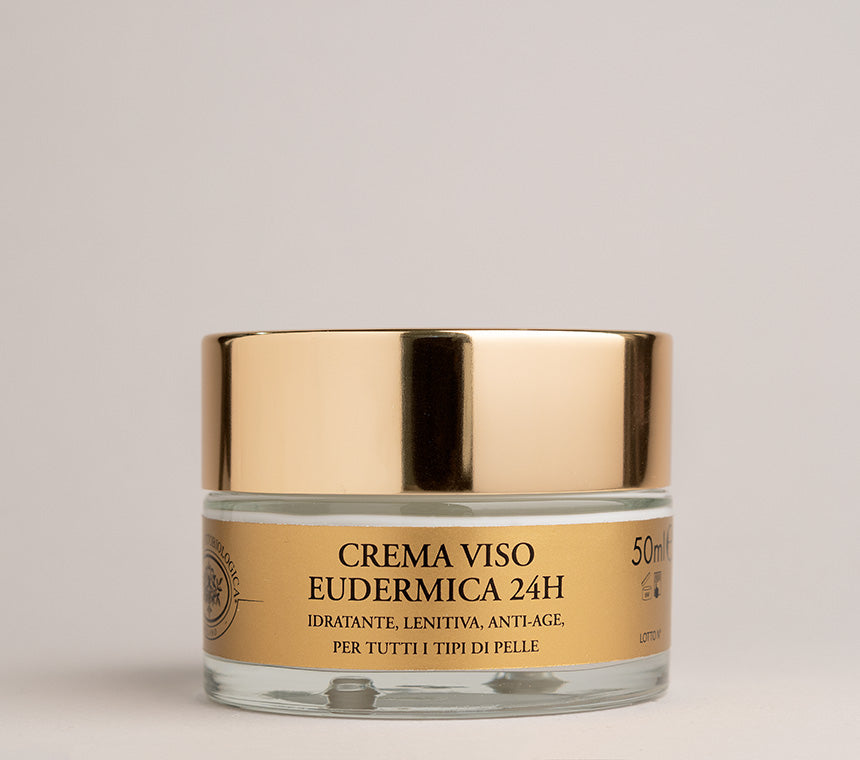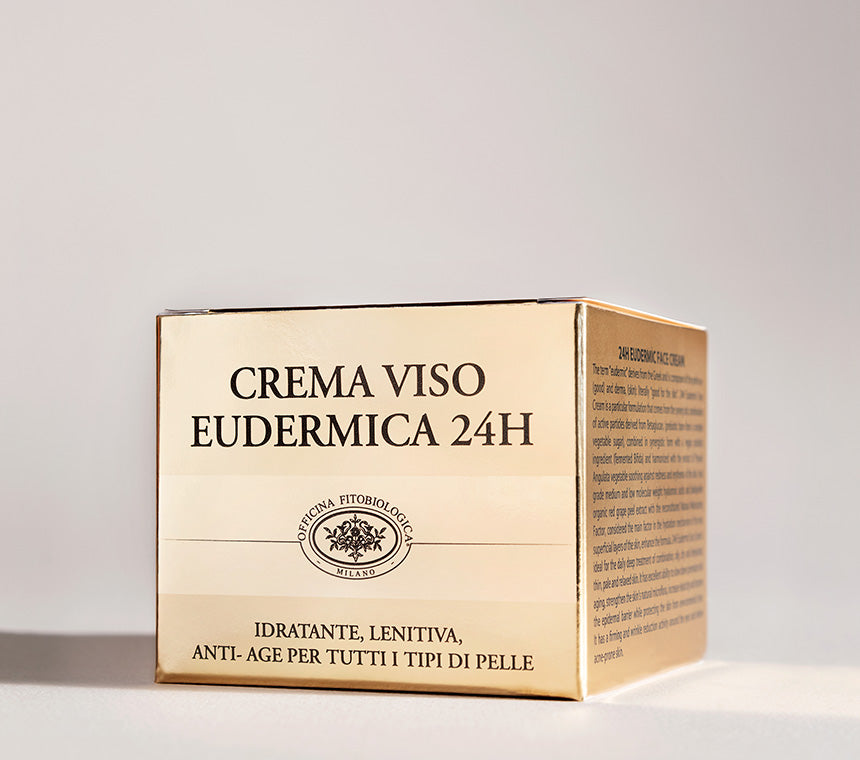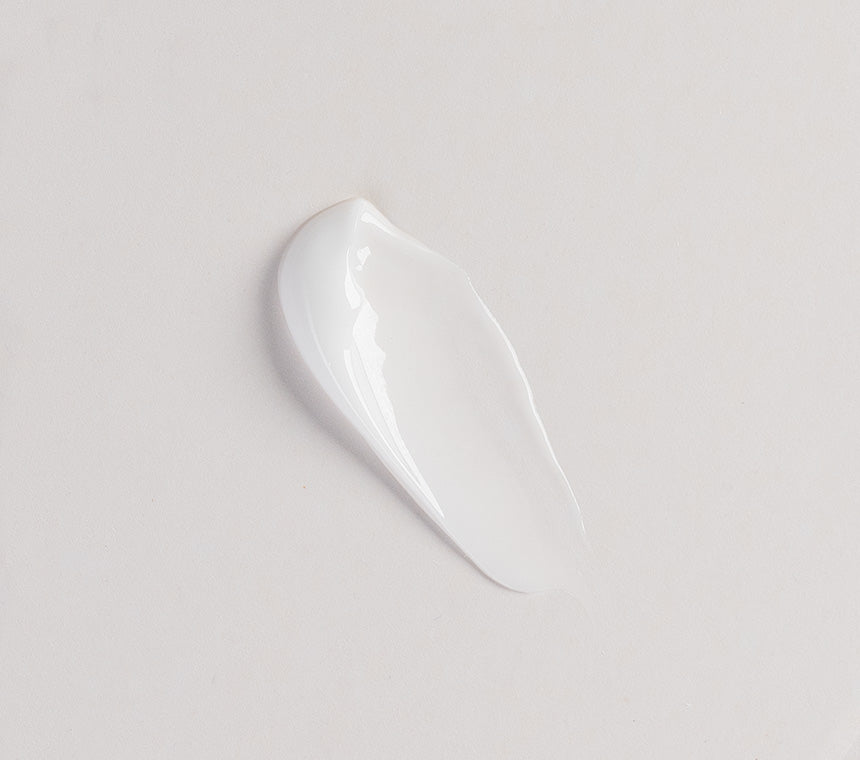 24H SOOTHING EUDERMIC FACE CREAM
FORMAT
50 ml
Ideal for slowing down skin aging, it increases elasticity and improves the epidermal barrier while protecting the skin from environmental stress. It has a firming and wrinkle reduction activity around the eyes and relieves acne-prone skin.
EFFECTS

Anti aging
Protective and relaxing action

Increases skin elasticity
FOR WHO
Suitable for combination, oily, dry and dehydrated, thin, pale and relaxed skin. It has a soft and light texture that is quickly absorbed.
HOW TO USE
Spread out a sufficient amount of cream on the face with gentle and circular movements until completely absorbed.




Made in Italy
Officina Fitobiologica directly produces the preparations and plant extracts of its cosmetics, in its laboratories in Milan, to ensure the purity of the ingredients and the effectiveness of the active ingredients.
24H SOOTHING EUDERMIC FACE CREAM
INCI
INGREDIANTS
AQUA (WATER), CAPRYLIC/CAPRIC TRIGLYCERIDE, HYDROGENATED ETHYLHEXYL OLIVATE, GLYCERIN STEARATE SE, HYDROLIZED GRAPE SKIN, CETEARIL ALCOHOL, PENTYLENE GLYCOL*, GLYCERIN, CERA ALBA, GLYCERIN STEARATE, BIFIDA FERMENT LYSATE, SODIUM HYALURONATE, HYDROLYZED HYALURONIC ACID, PHYSALIS ANGULATA EXTRACT, SODIUM CARBOXYMETHYL BETAGLUCAN, RICINUS COMMUNIS SEED OIL, POTASSIUM PALMITOYL HYDROLYZED WHEAT PROTEIN, HYDROGENATED OLIVE OIL UNSAPONIFIABLES, BISABOLOL, PANTHENOL, PARFUM, XANTHAN GUM, SODIUM LACTATE, SODIUM PCA, SCLEROTIUM GUM, TETRASODIUM GLUTAMATE DIACETATE, FRUCTOSE GLYCINE, LACTIC ACID, HYDROGENATED CASTOR OIL, 1,2-HEXANEDIOL, CITRIC ACID, NIACINAMIDE, COPERNICIA CERIFERA CERA, BENZYL ALCOHOL, UREA, INOSITOL, ETHYLHEXYGLYCERIN, POTASSIUM SORBATE, PHENOXYETHANOL, SODIUM BENZOATE. *Vegetable Product obtained from Sugar Cane and No GMO Corn Cob.
Food Grade
Food grade active ingredients
Botanicals
91% natural ingredients | Original botanicals made by Officina Fitobiologica
Sustainable supply chain
Low environmental impact product and packaging
INGREDIENTS OF THIS COSMETIC
ACTIVE INGREDIENTS & BOTANICALS
Main active ingredients prepared directly by Officina Fitobiologica in its laboratories to ensure the highest level of purity and effectiveness.
BETAGLUCAN It is a prebiotic derived from glucan (complex sugar found in the cell walls of bacteria, fungi, yeasts, algae, lichens and plants, such as oats and barley) obtained by extraction from the cell wall of brewer's yeast ( Saccharomyces cerevisiae). Particularly suitable for application on sensitive skin, it stimulates the formation of cells for the regeneration of the skin tissue itself, helping healing in the event of injuries. It is a powerful biological agent that improves the skin's resistance to UV-A-induced oxidative stress and protects the skin from environmental stress; this is linked to its antioxidant, anti-inflammatory, immune system stimulating, anti-itchy action. Its filming action strengthens its moisturizing properties and protects the skin giving it a velvety touch and making it smooth and firmed. It also has a firming and wrinkle-reducing activity around the eyes and relieves acne-prone skin. BIFIDA FERMENTO LISATO It is a vegan probiotic ingredient, obtained from the fermentation of bacterial strains of the Bifidobacteriaceae family, It has excellent ability to slow down skin aging and promote cell regeneration. Strengthens the skin barrier and is active on acne-prone skin. The Bifida ferment not only acts as an anti-aging agent, but also strengthens the skin's natural microflora, increases its elasticity and absorbs harmful UV radiation.
PHYSALIS ANGULATA EXTRACT Vegetable that grows preferentially in tropical and humid regions. Natural anti-inflammatory epidermal soothing, effective against redness and erythema. It has similar effects to hydrocortisone, without the occurrence of adverse effects. This extract improves the activation of inflammatory mediators with a strong increase in antioxidant activity. It stimulates the synthesis of collagen in the extracellular matrix to repair the damage caused by erythema. SODIUM HYAULORONATE HYALURONIC ACID MMW (Medium Molecular Weight) food grade Product capable of binding a high number of water molecules ensuring surface hydration with the formation of a thin, invisible, viscoelastic layer, which fixes the humidity on its epidermal surface, giving elasticity and turgor.
LMW FOOD GRADE HYALURONIC ACID (Low Molecular Weight) With a fundamental role in deep dermal hydration. This molecule, lightened in its structure, overcomes the skin barrier reaching the deeper layers of the dermis ensuring greater hydration, turgor and brightness BIOLIQUEFIED ORGANIC RED GRAPE SKINS It is a product obtained from fresh red grape marc, selected from the richest in biophenols and from certified organic farming. Through the Molecular Bioliquefaction technology of organic red grape skins, bioavailable active molecules have been obtained with antioxidant capacity compared to the natural antioxidants of greater use in dermo-cosmetic, food and parapharmaceutical use. It contains more effective active ingredients even than vitamin C and, unlike this, it maintains its effectiveness over time. It maintains the hydration and elasticity of the skin by counteracting the signs of aging such as loss of tone, dehydration, wrinkles, loss of radiance. It protects against damage caused by continuous exposure to light and which determine a particular type of premature aging that manifests itself as dryness, flaking, hardening, yellowing and deepening of the texture with the appearance of wrinkles. The biophenols contained improve microcirculation by counteracting the stagnation of liquids and the lack of oxygenation which progressively leads to the alteration of the connective and elastic structure of the tissue. Dark circles and couperose: two frequent imperfections of the face that can benefit from the ability of the biophenols contained to promote correct vascular drainage and vascular tone of the skin, at the same time protecting these delicate tissues from the aggressions of external agents.
N.M.F. RECONSTITUTED (Natural Moisturizing Factor) Considered the main factor in the hydration mechanism of the most superficial layers of the skin. It consists of sugars, amino acids, urea and other substances, present in the skin to maintain the right rate of hydration. Since the composition of NMF contained in the epidermis is known, the same complex mixture of substances produced by the skin has been reconstructed with sodium lactate, sodium PCA (sodium salt of pyroglutamic acid), glycine, fructose, urea, niacinamide, inositol and lactic acid. This mixture is able to retain the right moisture in the outermost layer of the skin by regulating the loss of water from the skin towards the outside.