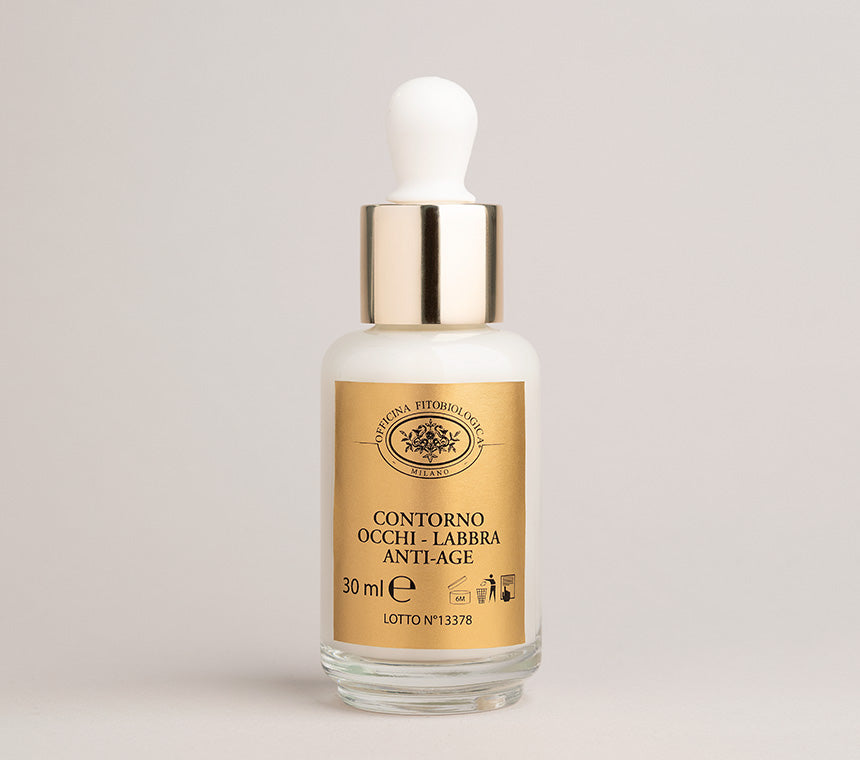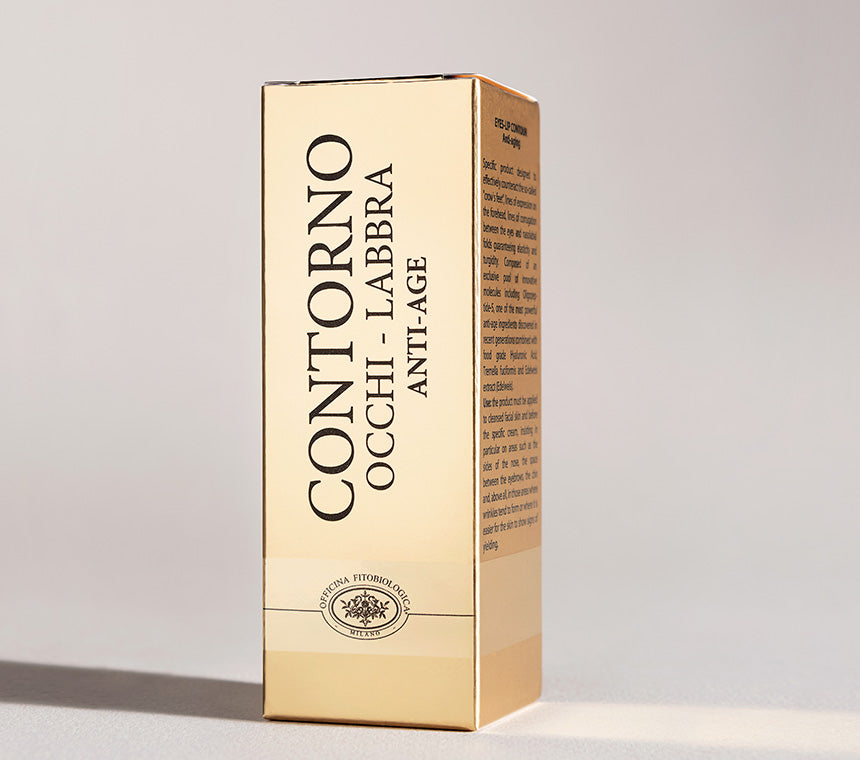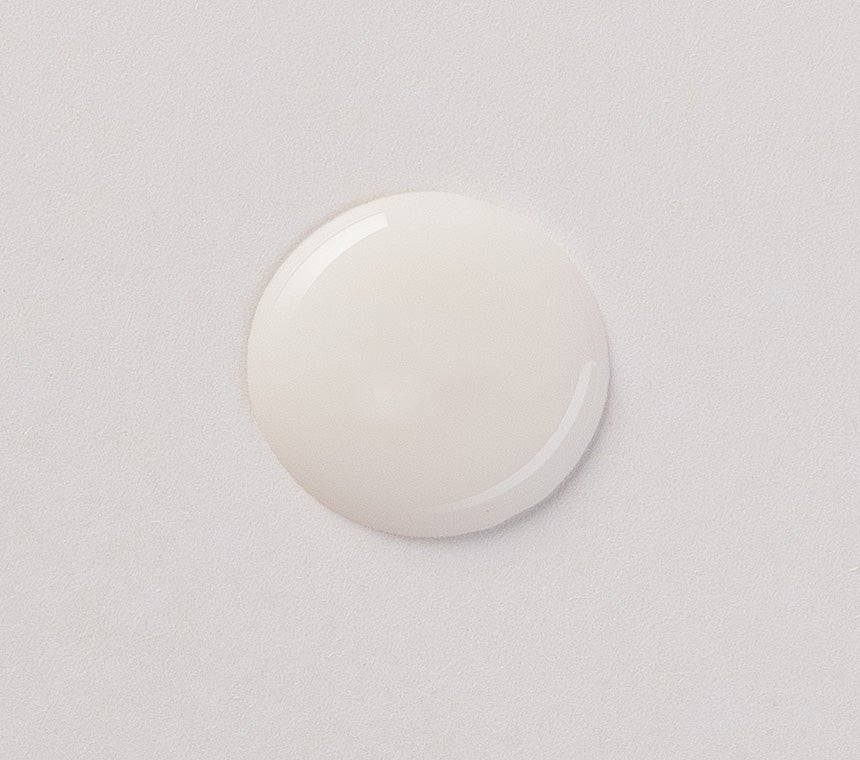 FORMAT
30 ml
Serum that effectively counteracts the so-called"crow's feet", expression lines on the forehead, wrinkling lines between the eyes and nasolabial folds, guaranteeing elasticity and firmness.

EFFECTS
Smooth out the fine lines

Replumps and moisturizes

Protects the most delicate areas of the face
FOR WHO
Suitable for both young and mature skin, even the most sensitive. With an anti-aging action, it smoothes and tones the skin.
HOW TO USE
Apply on the clean facial skin and before the specific cream, insisting on areas such as the sides of the nose, the space between the eyebrows, the chin and above all, in those areas where wrinkles tend to form or where it is easier for the skin to have the first signs of subsidence.


Made in Italy
Officina Fitobiologica directly produces the preparations and plant extracts of its cosmetics, in its laboratories in Milan, to ensure the purity of the ingredients and the effectiveness of the active ingredients.
INCI
INGREDIANTS
AQUA, SODIUM HYALURONATE, Tremella fuciformis POLYSACCHARIDE, oligopeptide-5, Leontopodium alpinum EXTRACT, Sclerotium GUM, GLYCERIN, PROPYLENE GLYCOL, DISODIUM PHOSPHATE, PHENOXYETHANOL, tetrasodium GLUTAMATE DIACETATE, Ethylhexylglycerin, POTASSIUM PHOSPHATE, Imidazolidinyl urea, LACTIC ACID, TITANIUM DIOXIDE, Sorbic acid , SODIUM DEHYDROACETATE, UNDECYLENIC ACID, POTASSIUM SORBATE, CITRIC ACID, SODIUM BENZOATE.
Food Grade
Food grade active ingredients
Botanicals
91% natural ingredients | Original botanicals made by Officina Fitobiologica
Sustainable supply chain
Low environmental impact product and packaging
INGREDIENTS OF THIS COSMETIC
ACTIVE INGREDIENTS & BOTANICALS
Main active ingredients prepared directly by Officina Fitobiologica in its laboratories to ensure the highest level of purity and effectiveness.
OLIGOPEPTIDE-5 It is one of the most powerful and most advanced anti-aging ingredients discovered in the last few generations of anti-aging products. It is a molecule made up of several amino acids that binds in a highly specific way to the cell receptors that regulate particular biological processes giving greater skin elasticity and hydration.
HYALURONIC ACID MMW FOOD GRADE (Medium Molecular Weights) Product capable of binding a high number of water molecules ensuring surface hydration with the formation of a thin, invisible, viscoelastic layer, which fixes the humidity on its epidermal surface giving elasticity and turgor. Food grade Hyaluronic Acid is of an edible level therefore of the highest and most effective quality, which provides elements that can be assimilated by nature.
HYALURONIC ACID LMW FOOD GRADE (Low Molecular Weights) From the fundamental role of deep dermal hydration. This molecule, lightened in structure, overcomes the skin barrier reaching the deeper layers of the dermis ensuring greater hydration, turgor and brightness.
FOOD GRADE RICE OIL A precious ally for the skin. In fact, in addition to oleic, linoleic and palmitic acids, it contains gamma orinazole, vitamin E and many mineral salts that give this oil extraordinary antioxidant, soothing and decongestant properties. Very appreciated ingredient for its moisturizing, emollient and smoothing power and to improve bags and dark circles. EDELWEISSE EXTRACT It is a functional ingredient obtained from Edelweiss (Leontopodium alpinum) from organic crops above 1500 meters in the Swiss Alps. The extract guarantees the maximum content of active components such as leontopodic acid, a powerful antioxidant or radical scavenger, it is useful as a treatment and protection in the stratum corneum and epidermal layers to preserve their natural balance. Its excellent and numerous properties make it an ideal anti-aging ingredient