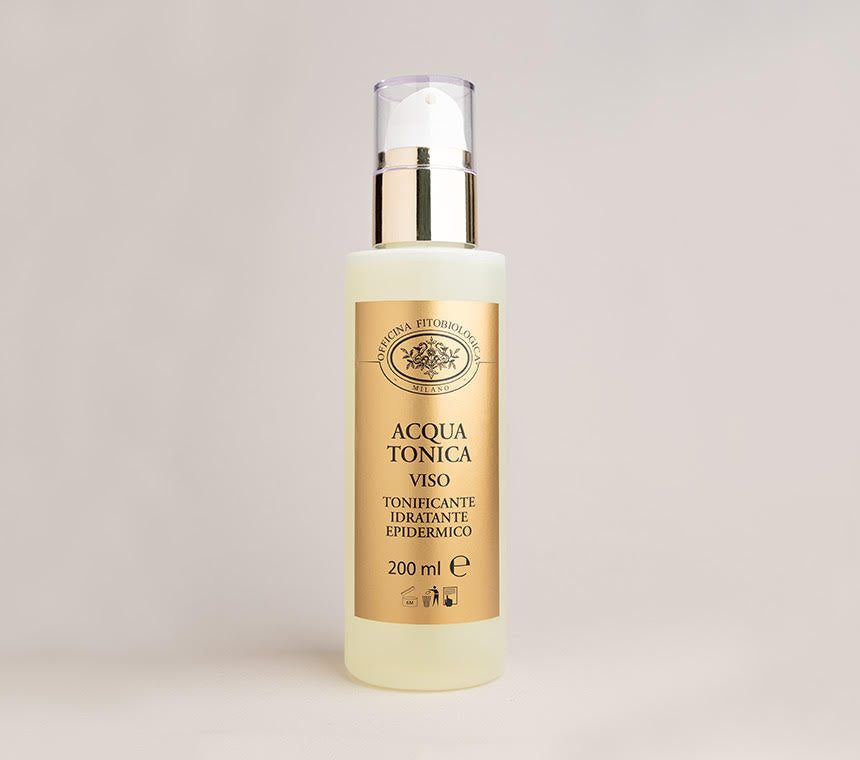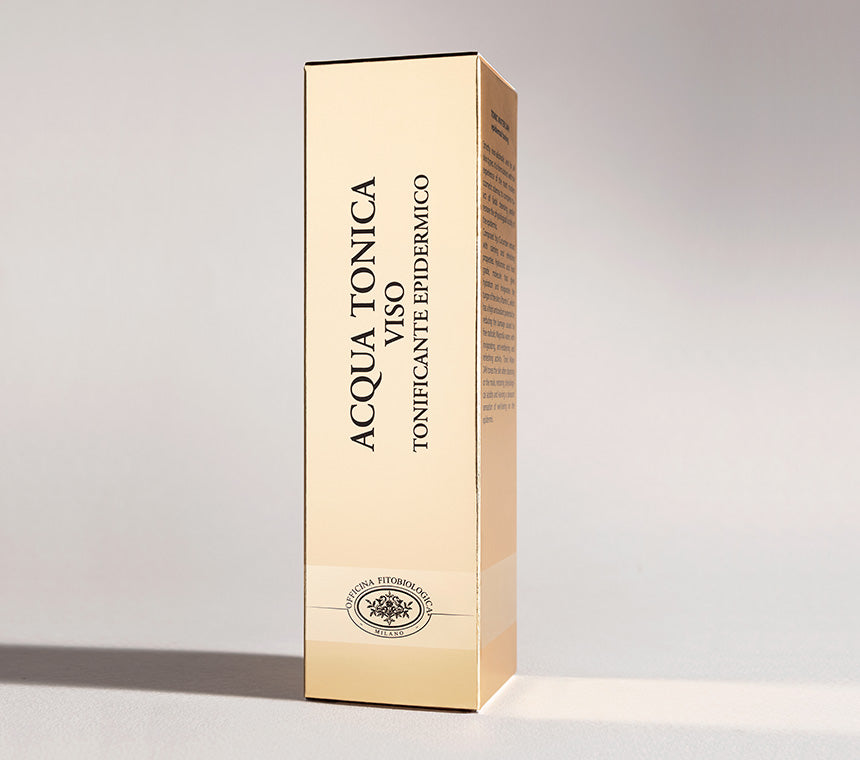 FORMAT
200 ml
Tonic based on Magnolia distilled water, cucumber extract, hyaluronic acid and vitamin C. It has a cleansing and sebum-balancing action, tones and moisturizes the skin of the face after cleansing, reducing the presence of impurities and dilated pores.
EFFECTS

Astringent with sebum-regulating properties

Immediate toning and refreshing action

Soothing and purifying

FOR WHO
Suitable for all skin types, even the most sensitive and acne-prone. It has a light and fresh formulation, which is rapidly absorbed.
HOW TO USE
After the cleanser, apply on a cotton pad, tapping on the face and neck gently, before the specific serum.

Made in Italy

Officina Fitobiologica directly produces the preparations and plant extracts of its cosmetics, in its laboratories in Milan, to ensure the purity of the ingredients and the effectiveness of the active ingredients.
INCI
INGREDIANTS
MAGNOLIA GLAUCA FLOWER WATER, AQUA, cucumber, Pentylene GLYCOL *, GLYCERIN, SODIUM HYALURONATE, SODIUM Ascorbyl PHOSPHATE, PARFUM, LACTIC ACID, Xanthan Gum, BENZYL ALCOHOL, Ethylhexylglycerin, tetrasodium GLUTAMATE DIACETATE, DISODIUM PHOSPHATE, POTASSIUM PHOSPHATE, SODIUM BENZOATE, POTASSIUM SORBATE, CI 75810. * Vegetable product obtained from Sugar Cane and Corn Cob No GMO.
Food Grade
Food grade active ingredients
Botanicals
91% natural ingredients | Original botanicals made by Officina Fitobiologica
Sustainable supply chain
Low environmental impact product and packaging
INGREDIENTS OF THIS COSMETIC
ACTIVE INGREDIENTS & BOTANICALS
Main active ingredients prepared directly by Officina Fitobiologica in its laboratories to ensure the highest level of purity and effectiveness.
DISTILLED WATER OF MAGNOLIA (Magnolia Glauca Flower Water) It is obtained by steam distillation of the flowers, leaves and bark of Magnolia glauca L. eliminating the essential oil by decanting. This active ingredient, replacing the water in the cosmetic product, helps to give the skin a sensation of tone, firmness and freshness.
HYALURONIC ACID MMW FOOD GRADE (Medium Molecular Weights) Product capable of binding a high number of water molecules ensuring surface hydration with the formation of a thin, invisible, viscoelastic layer, which fixes the humidity on its epidermal surface, giving elasticity and turgor. Food grade Hyaluronic Acid is of an edible level therefore of the highest and most effective quality, which provides elements that can be assimilated by nature.
VITAMIN C It has a high antioxidant capacity that allows you to inactivate free radicals which, if present in excessive quantities, are among the factors that most contribute to skin aging. It is an antioxidant active ingredient that protects cells from damage caused by free radicals; counteracts skin aging by promoting the formation of collagen; acts on the melanin formation process by preventing hyperpigmentation and senile keratosis. It protects the skin, promotes its development and improves its appearance.
CUCUMBER EXTRACT With calming, refreshing, eudermic properties, particularly suitable for reddened and erythrosic skin. NATURAL PENTYLENE GLYCOL Natural Pentylene Glycol is an effective product of natural origin certified by Ecocert and Cosmos, with emollient, humectant, protective and conditioning properties of the skin. This ingredient differs from all glycols because it is a vegetable product obtained from sugar cane and non-GMO corn cobs.