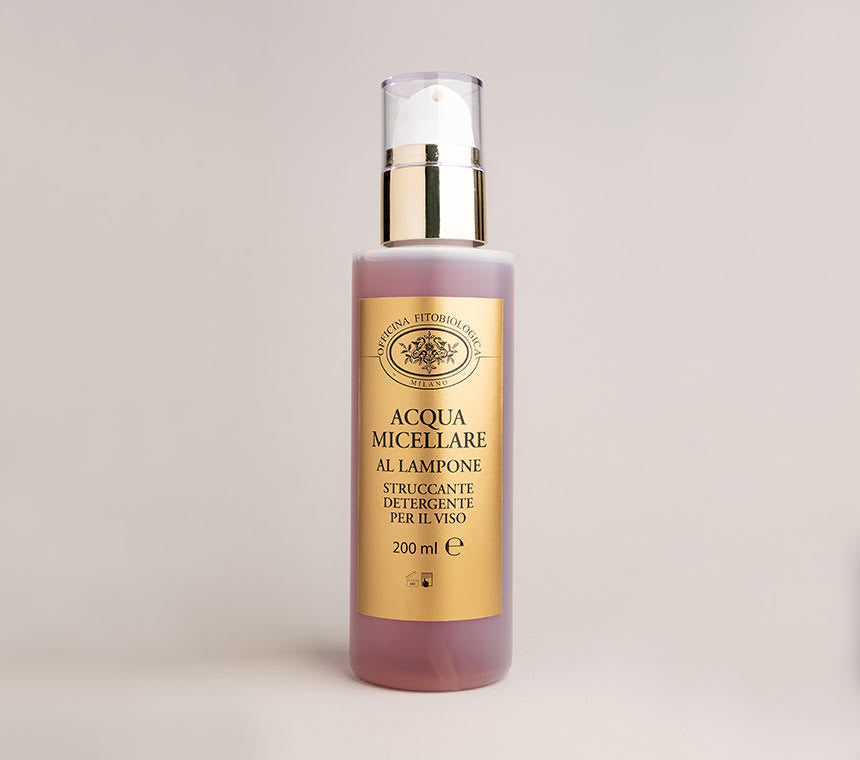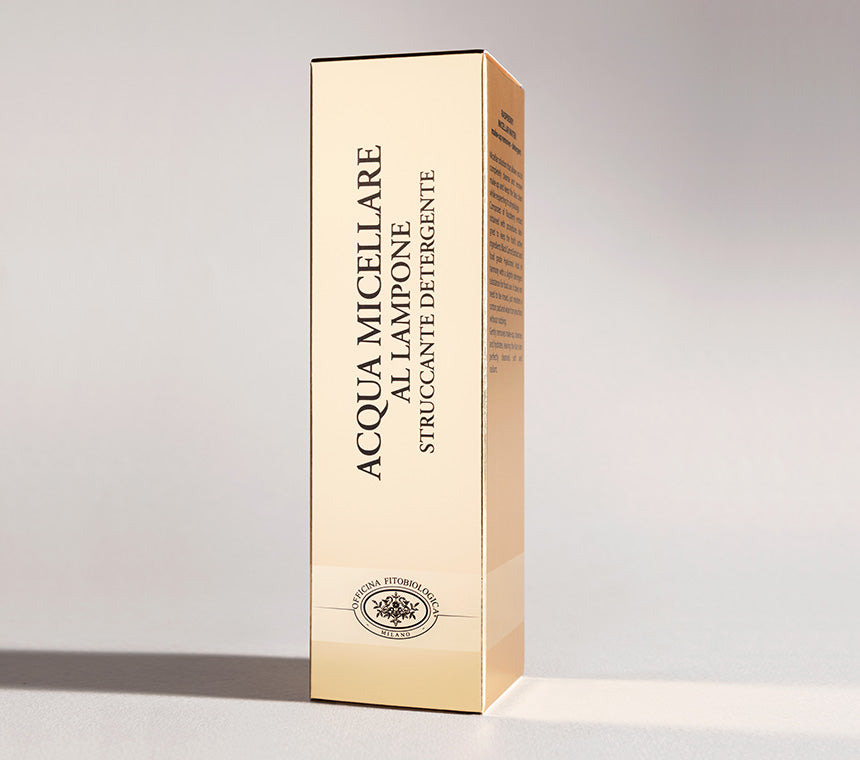 FORMAT
200 ml
It allows you to completely remove make-up, gently cleanse and moisturize the face while respecting its physiology, without the need for rinsing, leaving the face skin perfectly cleansed, soft and radiant.



EFFECTS
Sebum-balancing

Effectively removes makeup and impurities
Moisturizes without greasing
FOR WHO

This cleanser is suitable for all skin types, even the most sensitive and prone to irritation.
HOW TO USE
It does not require rinsing, moisten a cotton pad and pass it on the face without rubbing.



Made in Italy
Officina Fitobiologica directly produces the preparations and plant extracts of its cosmetics, in its laboratories in Milan, to ensure the purity of the ingredients and the effectiveness of the active ingredients.
INCI
INGREDIANTS
AQUA, RUBUS IDAEUS JUICE, PENTYLENE GLYCOL*, SODIUM HYALURONATE, ANTHOCYANINS, GLYCERIN, BENZYL ALCOHOL, POLYSORBATE 20, PEG-40 HYDROGENATED CASTOR OIL, ETHYLHEXYLGLYCERIN, SODIUM HYDROXIDE, LACTIC ACID. *Vegetable Product obtained from Sugar Cane and No GMO Corn Cob
Food Grade
Food grade active ingredients
Botanicals
91% natural ingredients | Original botanicals made by Officina Fitobiologica
Sustainable supply chain
Low environmental impact product and packaging
INGREDIENTS OF THIS COSMETIC
ACTIVE INGREDIENTS & BOTANICALS
Main active ingredients prepared directly by Officina Fitobiologica in its laboratories to ensure the highest level of purity and effectiveness.
RASPBERRY EXTRACT (rubus idaeus juice) Obtained with procedures designed to keep the active ingredient content of the fruit intact. It is a real toning and restructuring of the skin thanks to its antioxidant, anti-inflammatory, astringent and anti-aging properties.
HYALURONIC ACID MMW FOOD GRADE (Medium Molecular Weight) Product capable of binding a high number of water molecules ensuring surface hydration with the formation of a thin, invisible, viscoelastic layer, which fixes the humidity on its epidermal surface giving elasticity and turgor.
BLACK CARROT EXTRACT E163 (anthocyanins) It is a variety of carrot that few in the West know, but which promises very well for its properties and for the benefits it can bring to our body. It has properties similar to those of blueberries, plums, grapes or red wine and is therefore rich in anthocyanins with a high antioxidant power, very useful against free radicals, inflammation, circulatory problems, damage caused by ultraviolet rays.
MIXTURE OF POLYSORBATE 20 (polysorbate 20- peg-40 hydrogenated castor oil) Non-ionic surfactant used in the food sector (E432) and cosmetics with hydrogenated and ethoxylated castor oil. Helps to dilute essential oils or perfumes in water based cosmetics such as lotions, creams, gels.