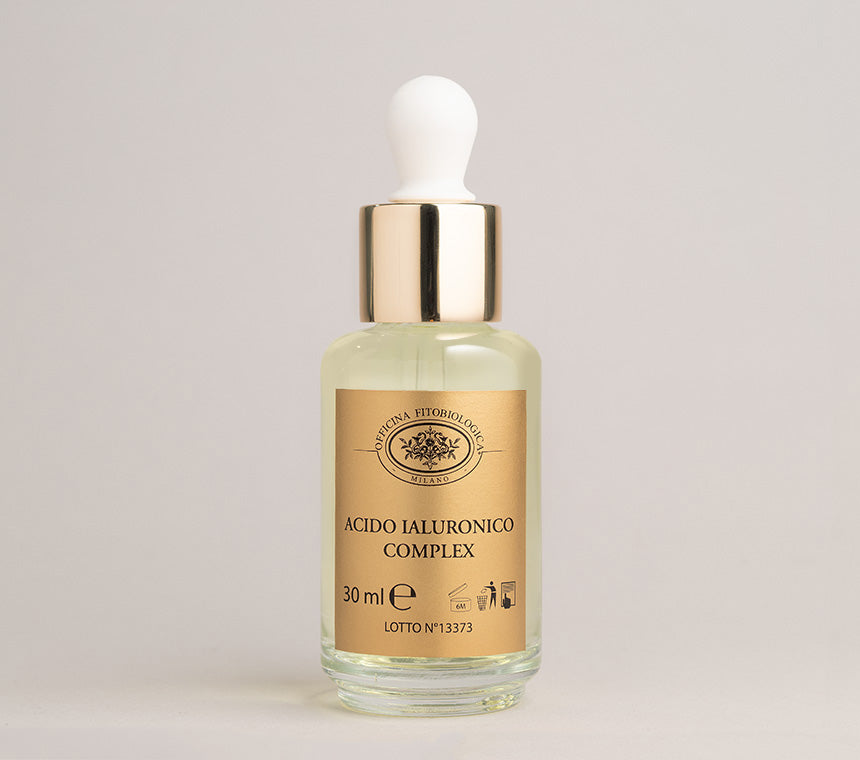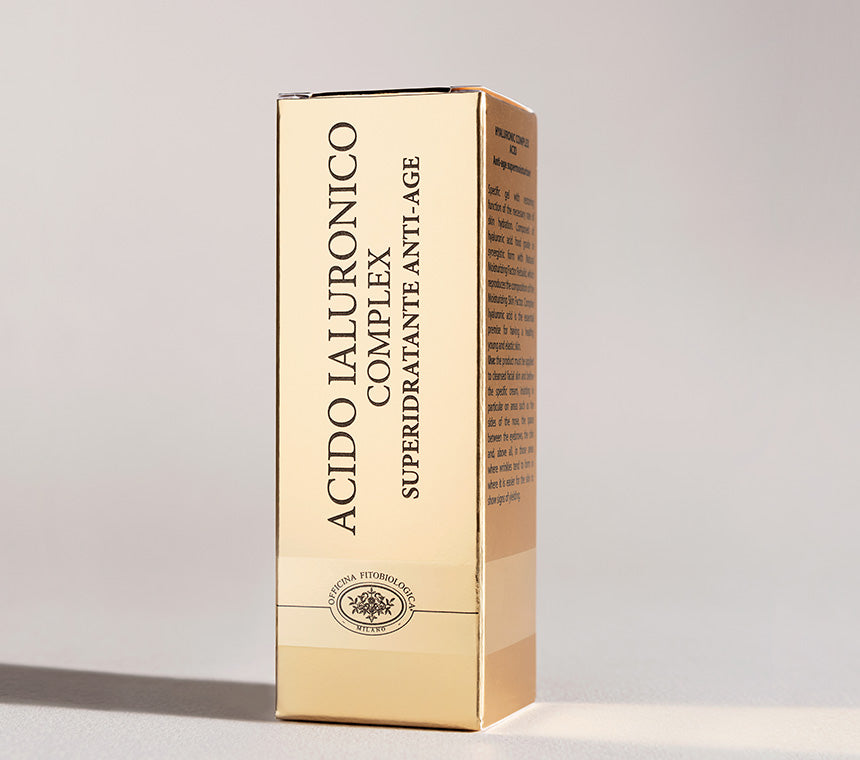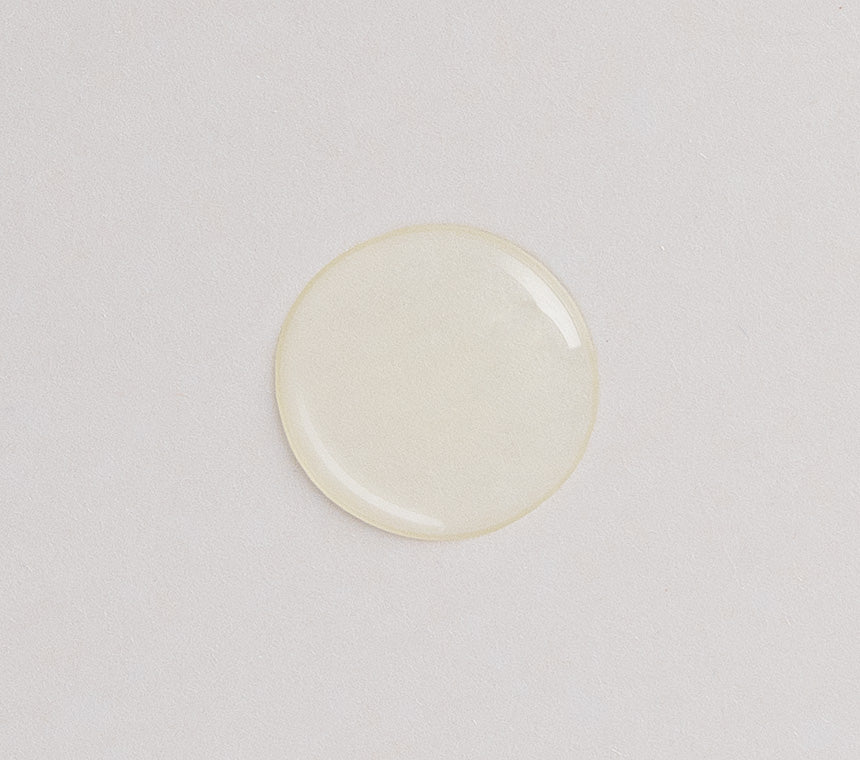 HYALURONIC ACID FACE COMPLEX

FORMAT

30 ml
Concentrated serum based on hyaluronic acid helps to preserve hydration and helps to have a healthy and elastic skin.
EFFECTS

Deep hydration

Immediate plumping

Anti wrinkle and anti free radicals
FOR WHO
Suitable for all skin types, even the most sensitive. It has a soft and light texture that is quickly absorbed.
HOW TO USE
The product must be applied on cleansed facial skin and before the specific cream, insisting in particular on areas such as the sides of the nose, the space between the eyebrows, the chin and above all, in those areas where wrinkles tend to form or where it is easier for the skin to have the first signs of sagging.
Made in Italy
Officina Fitobiologica directly produces the preparations and plant extracts of its cosmetics, in its laboratories in Milan, to ensure the purity of the ingredients and the effectiveness of the active ingredients.

HYALURONIC ACID FACE COMPLEX
INCI
INGREDIANTS
AQUA, SODIUM HYALURONATE, SODIUM PCA, SODIUM LACTATE, NIACINAMIDE, GLYCINE, INOSITOL, FRUCTOSE, UREA, PHENOXYETHANOL, ETHYLHEXYLGLYCERIN, LACTIC ACID, SODIUM HYDROXIDE, SODIUM BENZOATE, C.I. 19140.
Food Grade
Food grade active ingredients
Botanicals
91% natural ingredients | Original botanicals made by Officina Fitobiologica
Sustainable supply chain
Low environmental impact product and packaging
INGREDIENTS OF THIS COSMETIC
ACTIVE INGREDIENTS & BOTANICALS
Main active ingredients prepared directly by Officina Fitobiologica in its laboratories to ensure the highest level of purity and effectiveness.
HYALURONIC ACID MMW FOOD GRADE (Medium Molecular Weights) Product capable of binding a high number of water molecules ensuring surface hydration with the formation of a thin, invisible, viscoelastic layer, which fixes the humidity on its epidermal surface giving elasticity and turgor. Food grade Hyaluronic Acid is of an edible level therefore of the highest and most effective quality, which provides elements that can be assimilated by nature.
RECONSTITUTED NMF (Natural Moisturizing Factor) Composed of sodium lactate, sodium PCA (sodium salt of pyroglutamic acid), glycine, fructose, urea, niacinamide, inositol and lactic acid, which reproduces the complex mixture of substances produced by the skin, able to retain the right humidity in the stratum corneum by regulating the loss of water from the skin towards the outside (Trans Epidermal Water Loss).
The basic ingredients are prepared directly by Officina Fitobiologica to ensure the best quality and effective persistence of the active ingredients.
The production chain is monitored with the direct intervention of the Chemist-Artisan according to high quality standards.